How can your team work on "getting to the next level?"
How many times have you thought about wanting to level-up as a leader?
When we talk to business leaders and influencers around the world, they often say that their problem is:
Leaders find these problems in their day-to-day environment:
Their leaders lack the skills they need to do their job.
Their leaders don't know how to give constructive feedback.
Their leaders don't know how to motivate their teams.
Their leaders don't have a common leadership language to move from subjective to objective growth.
Their leaders exhibit self-preservation and defensive behaviors that lead to drama.
Does this resonate with you?
That's why we built Invincible.
We have discovered a proven process to help every team in your organization become Invincible.
We know who to involve.
We know where to focus.
We know what to measure.
We know how to deliver.
We know why it works.
With Invincible, the leaders we work with are more likely to experience:
A

Great Culture

that leads to an Engaged Workforce.

High Trust

amongst team members leading to Increased Collaboration.

Common Goals

that yield Efficient Work.

Focus

that allows them to Hit Their Targets.

Maximized Team Potential

which helps them Do More With Less.
Would this help your team get to the next level?
Let's find 15 minutes to help your team become Invincible.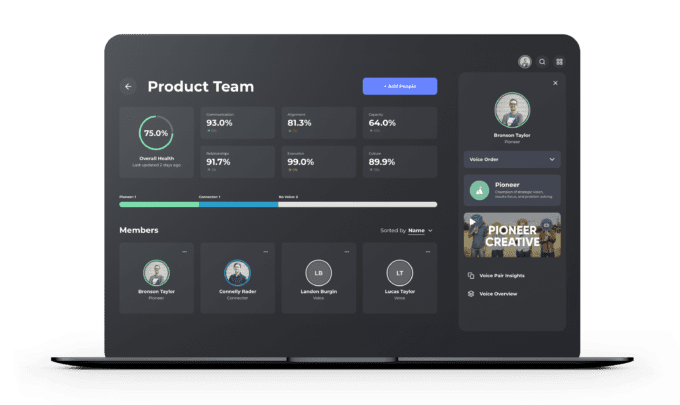 How do you measure your team performance?
Did you know: the average Team Performance score is 58%.
Here's what we have discovered from these teams:
Only 50% of employees are clear on what is expected of them.
Only 34% of employees agree their managers know what projects and tasks they are working on.
Only 30% of employees who believe they are being given opportunities to learn and grow.
Only 26% of employees receive effective ongoing feedback and communication.
Only 21% of employees have performance metrics they should be, or are being, held accountable to.
– Source: Gallup 2020
Some are calling this the "Undeniable Problem."
How does your team rank?
If you're a leader, then you already know the importance of making data-driven decisions.
We've been working with our colleagues on solving this problem with some of the world's leading organizations (Google, United States Air Force, Pfizer, etc.).
After a lot of trial and error, we have developed a proven-process to take leaders and their teams to become Invincible.
You might be thinking:
Is my organization too small to be Invincible?
My team is definitely too big to be Invincible.
Invincible is for organizations of all sizes and industries.
Not only does it improve your team performance score, but it gives you a simple system. In a few minutes each week, your team will begin to perform at the highest level and be resilient enough to withstand any storm.
Ready to build your Invincible team? Let's find 15 minutes to talk about your team!
The reality is, most teams are only achieving a little more than half of their full potential.
When was the last time you assessed your team? Were you pleased with the results?
What would it mean for your organization if you could move your team's score to 85%+?
Using our proven process, we help you build Invincible teams. It is simple, extremely low cost, and can be achieved in less than an hour of time invested each week.
You may have heard it said "a problem well-defined is half-solved". In our experience, this has proven to be true time and time again.
What are the problems you are facing in your team right now?
What are some of the wider problems you are seeing inside your organization?
We speak to leaders around the world every day, and the most common problems we see are:
Drama amongst team members, which leads to Wasted Time and Sideways Energy.
Hostility in team member's relationships, which yields PoorCollaboration.
Misalignment around goals, which leaves people Frustrated.
Lack of Execution which causes teams to Miss TheirTargets.
Unrealized Potential in leaders and team members which causes Missed Opportunities.
These issues cost organizations millions of dollars and wasted time, energy, and resources.
Do any of these resonate with you?
If so, you might need to implement a process to resolve these issues and increase your organization's overall health and performance.
We've developed Invincible to be simple and affordable to do exactly that. To see a demo of how it works, use the link and we'll find 15 minutes to walk through Invincible with you.
I want to help your team become Invincible.
We wave a banner of Liberation. This means that you get a culture where everyone is "fighting for the highest possible good for one another."
A culture that embraces the idea of being FOR one another experiences this:
When you create a healthy culture, your people love coming to work, and everyone feels like they are doing their part to help their team, and the organization, win.
I would love to have a quick call with you to share our Invincible process that yields healthy culture.