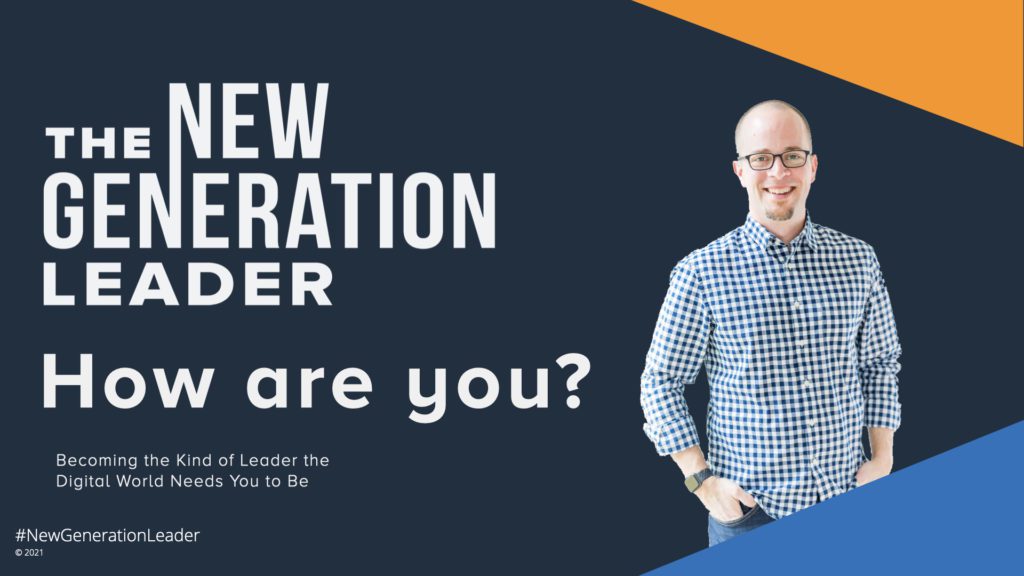 In this episode, we tackle a difficult conversation, but an important one.
As we look back on the last year and what COVID has dealt us, what our world has been like now for just a little over one year, as we look back and reflect on our own experiences at home, in our workplace, with our friends in every circle of influence, it's important for us to take a deeper look at not only where we've been, but how are we now?
What impact has this had on who we are? We're asking two questions:
how are you?
how can you rediscover a sense of peace?
Don't Give Up
My friend, Andrew, a consultant out in Eugene, Oregon highlighted the @dontgiveupsigns Instagram account for the Don't Give Up Movement .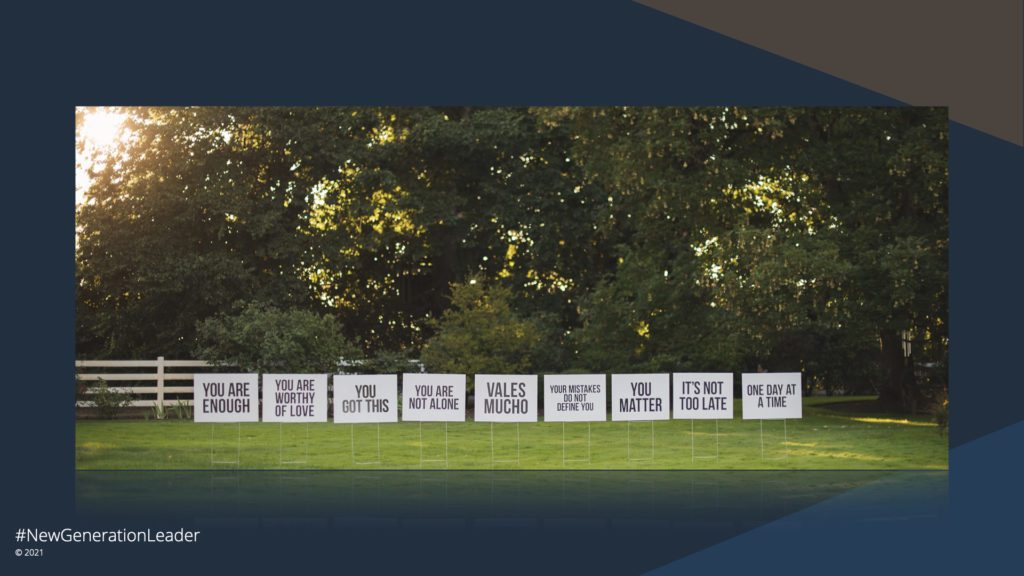 There's a great story behind their movement. They sell signs and stickers to share the message in your community, and a great Instagram account to remind us:
Download the Peace Index Tool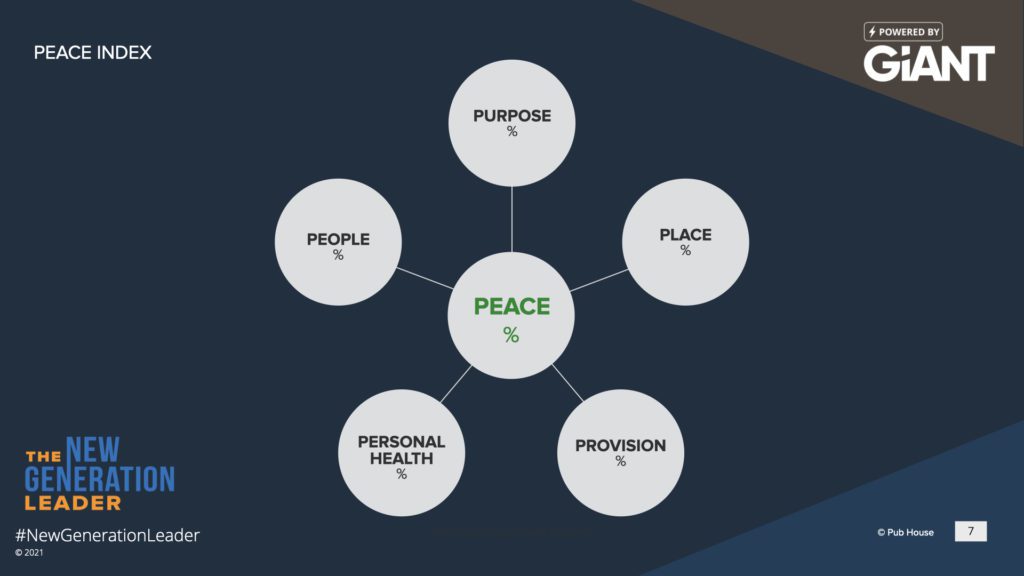 Give yourself a ranking 1-100 on each of these 5 areas:
People
Purpose
Place
Provision
Personal Health
Listen in at 10:38 on the episode to get the full description.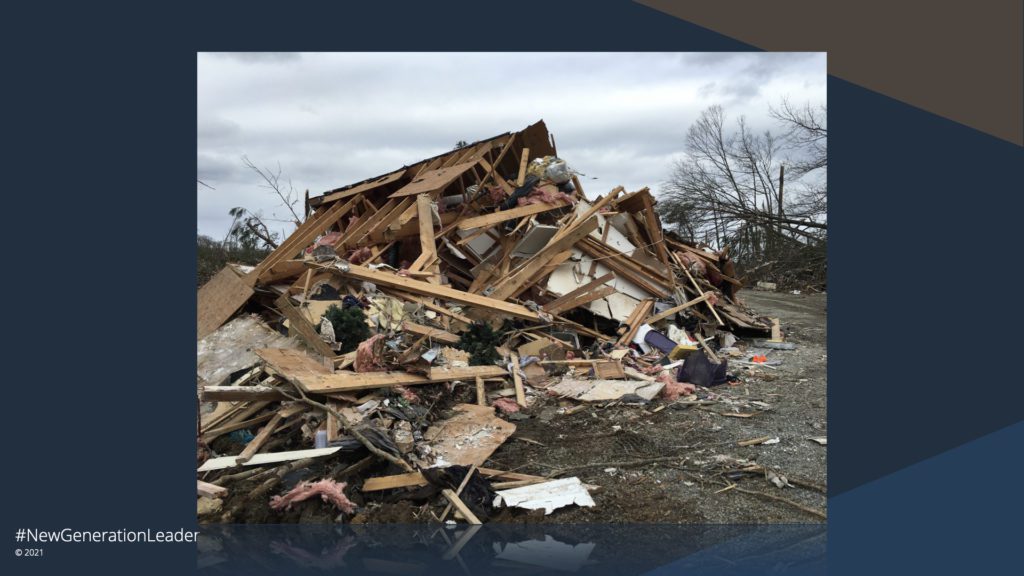 Tracking Sleep in COVID
Relationships after Disaster
Relationships Under Stress: Does adversity strengthen, heal, or destroy relationships? [Psychology Today]
The study of relationships after disasters shows a distinction between the "wake up call" of watching a crisis unfold and the ongoing trauma that brings stress. The first helps us reexamine our key relationships while the second strains our relationships.
Will Sandy bring a Baby Boom or a Baby Bust? [Slate]
Comparing the data from Hurricane Huge, 9/11 and Hurricane Sandy, the article explores assumptions around why relationships boom or falter after a crisis.
The impact on relationships is felt everywhere, even law firms are weighing in on this conversation.
Episode 3 – Full Transcript
How are you, what's going on in your world?
On today's episode of the New Generation Leader, we are going to tackle a more difficult conversation, but it's an important one. And as we look back on the last year and what COVID has dealt us, what our world has been like now for just a little over one year, as we look back and reflect on our own experiences at home, in our workplace, with our friends in every circle of influence, it's important for us to take a deeper look at not only where we've been, but how are we now? What impact has this had on who we are? So that's why we're talking about how are you and how can we rediscover peace? My last full-time position before I moved into consulting was in emergency management. We responded to disasters and it was interesting to have an up-close seat to communities devastated by tornadoes, by floods, by fires, by hurricanes.
In my time in that role, it was only natural disasters. We didn't have man-made disasters, but each community had a similar response. There was an immediate rush, an outpouring of support. Then the long haul set in it was a long road to recovery. You have an immediate event of crisis and people respond. Then the days turn into weeks, turn into months. And in many of these communities, we were spending upwards of two years. It takes a long time to rebuild a community, to put homes back together, to clean up and to help people get back home, not back to normal, but back to a new normal, what is normal now on the other side of this, and one of the things we discovered, and one of the things researchers have looked at, we'll drop a couple of links in the show notes, two examples of this from all sorts of different researchers after hurricane Hugo, hurricane, hurricane Sandy, all of those events triggered researchers to look at the long-term effects on relationships. And in those crisis situations where a, an entire community, an entire family, many families were turned on their heads, Yes, begins to take its toll. Relationships are fractured because over time, under extreme stress,
We aren't our normal selves. We aren't our usual selves. We aren't bringing our best.
Crisis Care in Disasters
So in our experience with this tornado, there were actually two tornadoes we helped clean up that happened the same day — this tornado and another tornado. In those communities, we watched as families experienced heartache after hardship, after challenge in their quest to rebuild, they were trying to put it all back together, but it was a long road. And so as we watched these relationships struggle, we turned the conversation and said, okay, we came into these community communities to help rebuild. What can we do to help rebuild the people, to help rebuild relationships, to help support and encourage and equip and resource them when they need it most in those crisis moments, we're not just going to take care of the tactical, the practical, the hands-on of rebuilding homes and cleaning up the messes left behind by mother nature. We're going to support and encourage. We're going to create a team.
And we created a team that followed the constructs. The systems, the process is set up. It's, what's known as emotional and spiritual care. This discipline was created after the federal building bombing in Oklahoma city. And back in the nineties, chaplains responded and helped communities helped that community in Oklahoma city and have helped probably hundreds of communities since then through disaster, not in a way that exploits the crisis that they're in, but provides them what they need in that moment. And we created this hypothetical story. We created a story, a narrative, a reason behind why we were launching this new initiative for us.
And that narrative was when everyone is in crisis, someone needs to come in and provide care, provide a listening ear, provide that support and encouragement and walk side by side, shoulder to shoulder through the journey. And it's one of my favorite threads of relaunching this initiative was the very first time we sent this team out. After Hurricane Harvey in Texas, one of our volunteers sat down with a resident in a storm shelter. And after their long conversation where he shared his story, his perspective. And he said, "thank you for listening to me. Thank you for hearing my story. I know everybody else in this shelter has their own story, and I didn't want to burden anyone else because they're all carrying their own stories."
Crisis After COVID-19
But here we are a year after COVID shut down our world, led us into crisis mode and there's no escaping it. There is no corner at least of our country where you've been able to escape it. Perhaps if you live in a very remote community or remote Island, perhaps across the globe, there are places where life is fairly close to what normal was before COVID. But for many of us, our rhythms have changed. Our community has changed our habits and our weekly and monthly events have changed. Holidays have changed. Relationships have changed. And for many, the added layers of crisis have affected jobs, have affected income, have affected work and provision for your family. And it's something that has affected all of us. We're all walking through this at the same time, we're all experiencing high levels of stress.
Jeremie Kubicek (JeremieKubicek.com), the co-founder of GiANT and co-author of The 100X Leader (Amazon link), uses the example of a tsunami. And we often think of a tsunami, we picture in our minds a single, large wave. But a tsunami is not simply one wave, it is a series of waves. And as Jeremie notes, we have experienced a series of waves. We had a pandemic, but in the midst of a pandemic, we also had a building political transition set to come in our country the entire election process, all that was coming in that election season. We also had a budding racial crisis in our country and it was building.
And we were about to reach a critical juncture in both of those events. When all of a sudden a pandemic takes root and it affects all of us across the country, across the world, it reaches every corner of our world. The crisis of the pandemic, wasn't the end of the pandemic. There were even further waves. There was the initial reaction. Businesses shut down. Many had to cut employee ranks, cut the staff back. Then some hired more people or in a second wave. As things started to settle, they shifted again, rehired some furloughed, others, and then a third wave. As it continued to extend throughout the rest of 2020, there have been multiple waves of reaction to the pandemic itself. While the racial experience here in the United States, the tensions, the understanding that we needed to have those conversations came to a head as did the election.
The Peace Index
So all of this is going on around us. How are you, how are you doing? How are you really doing? Don't give me fine. I want to ask you this in a deeper way that helps us get past fine. Let's look at these five components of peace and what I want you to do. As you were thinking about each of these five areas, as I describe them, give yourself a score on a scale of one to a hundred rank each one.
People: So we start with people, the people around you in every circle of influence your friends, your family, those you cohabitate with your neighbors, the people physically around you, even now. And those you work with those you interact with beyond your home and your neighborhood. How are your relationships? How strong are those relationships? How much are you at peace with the relationships and the people around you?
Purpose: Then we have our sense of purpose, our personal call and mission in the world. How is your sense of purpose? Are you at peace with where you are with what you're doing and how you are called to serve and lead those around you? If your sense of purpose, a number on a scale of one to a hundred
Place: then there's place. Your place may have changed for. You may not have the balance of home and work because now all of a sudden work and home and recreation and exercise and church and learning and all of these places where we would physically go somewhere else, have all happened under our roof for the last year. So how has your sense of peace about the place where you live, work, play? You can think about the physical place. You can think about the geography of the place. You can think about the dynamics in your neighborhood and community. How much is that bringing you peace?
Provision: Then we look at provision. Do you feel that you have what you need, what you want to put a roof over your head, have a place to sleep at night to provide for yourself and your family. Those needs, wants, and desires. How is your sense of peace about your provision? Do you have what you need.
Personal Health: last, but not least, personal health. You can think about this in terms of diet, of exercise, of every component of your personal health. How are your sleep rhythms? NewYork-Presbyterian Health Coronasomnia is a new dynamic that researchers are studying because we aren't sleeping as well. You put all of these five together and you start to get an understanding of where our peace might be a little bit off. Where are we? Not as peaceful. What's weighing us down.
And instead of answering, how are you fine? We can say, at least to ourselves, how are you? I, physical health is really weighing me down. I haven't been able to get out and move around. I'm working a whole lot closer to my refrigerator. And so snack time is grazing time all day long, where your physical place is, is your sense of peace. There is lower because you haven't been able to move around. You haven't been able to go out the kids, your significant other, your roommates, everybody is around all of a sudden, and now your coworkers are the same people you're cohabitating with, but they're not the same people you're actually doing work with. These dynamics have been completely thrown off kilter.
Maybe your sense of purpose has shifted or adjusted as you've changed jobs or taken a deeper look and gotten a clearer understanding of your own sense of purpose. Races tends to do that to us. It forces us to take a good hard look at the world around us and reconsider our purpose and reconsider the people. What I want you to be mindful of is that the stress can push us to make decisions that are based out of unhealth, out of stress and not out of a healthy peace filled perspective.
So if any of these numbers are below 70, that's something to work on. If it's below 50, I need someone to have the conversation with, to talk through this, to reflect on why is so low and what steps you can take to recover, what steps you can take to look forward. There are people around you. There is a community right in front of us, and now is the time more than ever for us to lean in for us to listen to each other and truly hear not to try to prove a point, but to be for the people around us, to give 110% of our listening ear, to make sure that we are truly hearing, we don't get an answer of how are you fine, but really an answer of how are you. I'm struggling in this area. This is a problem for me. I'm having trouble overcoming this obstacle, this challenge of this COVID year, plus that we're in now. And it's a roadblock. It's a hurdle that I have to get through and I need some support. I need some encouragement. I need some help. Just like that crisis care team we formed. Let's be a crisis care team for each other last week.
My friend, Andrew, a consultant out in Eugene, Oregon highlighted the @dontgiveupsigns Instagram account for the Don't Give Up Movement .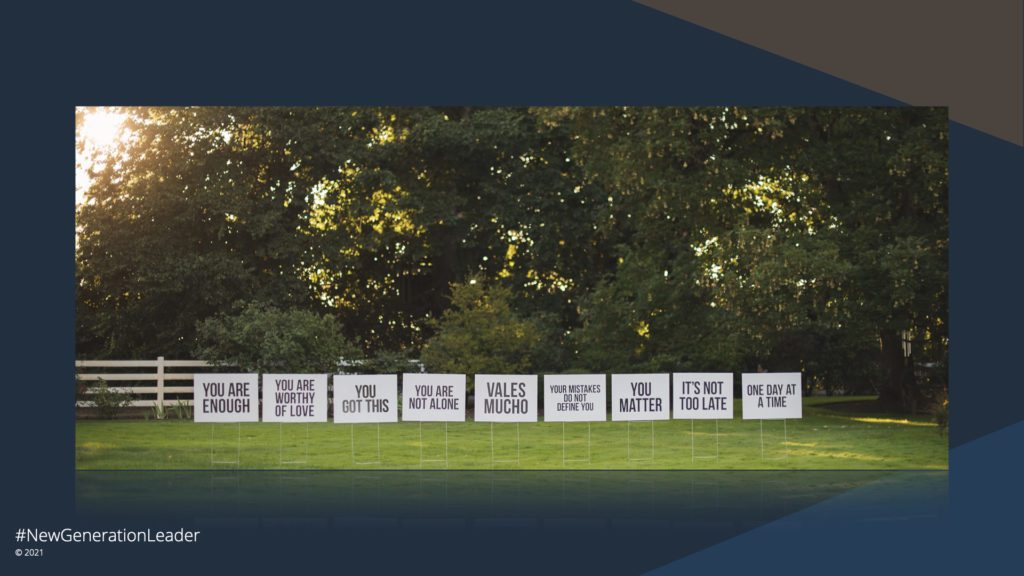 There's a great story behind their movement, but they have signs and stickers and a great Instagram account to remind us,
You got this, you matter one day at a time, your mistakes don't define you. All of these are encouragements for you to take with you today. So as you reflect on your peace, you put all of those five numbers together and average out your overall peace.
If your peace is the low, find somebody to have a conversation with about that. Reach out to me, somebody on our team, reach out to a friend, a neighbor, a coworker, somebody in your inner circle, who you believe can be a trusted confidant to have those conversations.
If your peace is low, don't go it alone. You got this, we're in this, we've made it a year and it's been really hard. There are great things ahead and what we learn and how we grow will give us all an opportunity to be stronger, to respond to the crises in front of us, make a difference in our world for years and years to come.