In August 2022, HyperSocial CEO Braden Wallake posted a gut-wrenching, teary selfie after laying off staff at the company. He made headlines and became known as the crying CEO.
According to the 10,807 comments on his LinkedIn post, Braden couldn't get it right. Or could he?
In the roller coaster of hiring, firing, staffing, recruiting, and overall people strategy, 2022 has brought a whole host of new challenges — and after 2.5 years of chaos at work, will it ever end?
---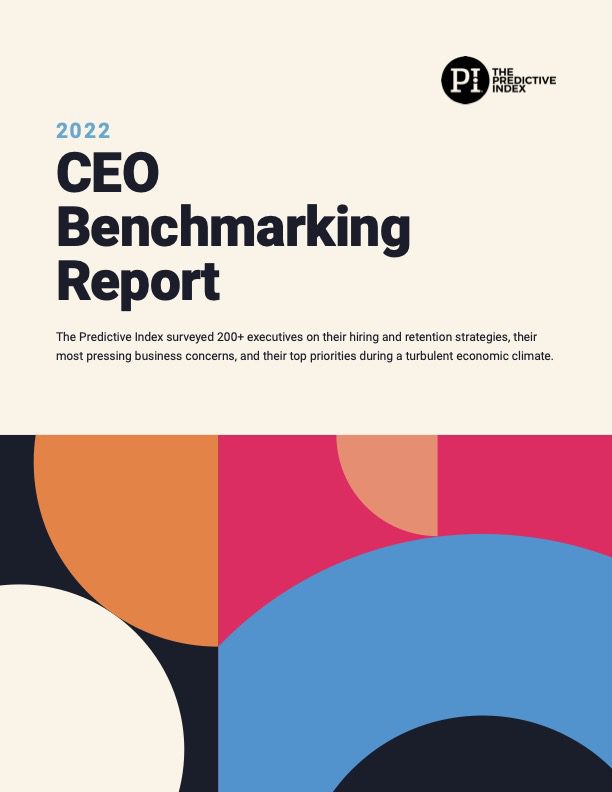 2022 CEO Benchmark Report
Explore our latest CEO benchmarking report, in which 200+ CEOs reveal their top concerns and priorities in a post-COVID remote world.
Links
---
Episode 21 – Full Episode Transcript
In August 2022, HyperSocial CEO Brandon Wallake posted a gut-wrenching teary selfie on LinkedIn after laying off staff at the company, he made headlines, and he became known as the crying CEO. According to the 10,807 comments on his LinkedIn post. Brandon couldn't get it right, or could he?
In the rollercoaster of hiring, firing, staffing, recruiting, and overall people strategy, 2022 has brought another year with a whole host of new challenges. And after 2.5 years of chaos at work, will it ever end?
This is Episode 21 of the New Generation Leader podcast, Maximizing Team Performance with People Data.
Executives like Brandon are forced into decisions every day, every week. How do we increase our likelihood of success? How do we get more out of our people? How do we deliver more to our clients in trying to balance all these moving parts. One theme resurfaces repeatedly successful businesses and their leaders understand the need to stay fluid.
They see the value and flexibility, open-mindedness and a willingness to iterate air and acknowledge missteps. That approach applies to everything from budget cuts to a public stance on prominent social issues by being agile and vulnerable. These leaders are putting their people first and finding prosperity in the process. Over the last few years, the employer-employee dynamic has changed so many times, you go back to the beginning of the pandemic first massive layoffs started in 2022. In a lot of industries, people were furloughed or completely laid off, entire industries went to sleep for a period of time.
People left the workforce either for those reasons or to stay at home with the kids or for sickness illness and everybody changed their habits. We took a deep look within and reevaluated our own personal priorities. Then it shifted again. Companies needed to hire back. We were opening the doors of businesses and commerce malls opened up, retail, opened up restaurants, figured out how to pivot and adapt and adjust. And now here we are two years later with new economic fears and the process is shifting yet again. So who really has the upper hand the employer or the employees layoffs mean that more talent is back on the market and companies that are hiring can reassess their needs perhaps focusing more on fit than just filling a role fast though as we'll talk about in a minute, they still need some speed in their process.
So how do we do this efficiently? What is the top concern for leaders and executives? How are they tackling approaching all of these challenges? Just like Brandon was back in August, how are they tackling these new challenges here in 2022? Well, in its 2022 CEO Benchmarking Report, The Predictive Index surveyed 209 executives of companies with 25 or more employees. You can download the full report in the show notes at NewGenerationLeader.com/21. But let's unpack a little bit about what The Predictive Index discovered in the CEO Benchmarking Report. Here are the top three current concerns of execs.
Let's put the top three answers on the board. Number one the economy, 54% of these executives said the economy was their number one current concern. Number two was hiring the right people. And number three was employee performance and productivity. And what's interesting is 54% of them said the economy, 49% said employee performance and productivity. These top three answers aren't spoken by a minority. A small portion of these executives, half of executives are saying one or more of these three current concerns. And so there's not much we can do control the control ables, we can't control things like the economy but we can make sure we're hiring the right people and we're increasing performance and productivity of our employees.
Over the past few years, hybrid work models were being invented from scratch in a lot of businesses and on the fly as Jason Pieper highlights in his new book build for tomorrow though, the technology wasn't new. It wasn't new until we needed it. And for me personally, I led responses connected with our partners for much of the last decade using zoom and virtual video technology. It wasn't new when the pandemic hit. But as Jason highlights in build for tomorrow, there really isn't anything new but the way we adapt and respond to technological changes to what's confronting us.
We just get comfortable until we're forced into something new. People wrote off the technology, they wrote off the hybrid workforce. They said, you know what, we don't need to focus on this. We don't need to work on this. We don't need this. This sentiment went all the way back into the mid part of the 20th century as Pfeiffer highlights in the book. But here we are. And now most companies have some semblance of a plan for how to keep their people remote on site, everyone in between to keep them connected.
So we talked about the top three concerns of executives, but what's the top challenge they're facing overwhelmingly, 41% of executives said working well remotely remains the top challenge. People performance, working well now we're talking about remote work. Hybrid work before you let your blood pressure rise too high. Let's take a look at who's actually working remotely. If big companies are making the headlines all around for their policies and changes other businesses have no ability to send their people hybrid or remote. They have to be in person what is actually going on across the board.
How are most companies working right now. The data and the ceo benchmarking report highlights the discrepancy between our fears and what we worry and the practice as it relates to remote work. More than 80% of companies surveyed have at least some level of on site work, 25% of them are requiring on site while on the other end, 10% are most or all remote. So on one side you take out 25% who are requiring everyone to be on site One in 41 in 10 are most or all remote. So that means 65% of employers have some level of flexibility and choice whether it's a certain number of days a week, a certain class or group of employees, a certain type of role that can be more remote than others.
So as we're reshuffling, as we're considering what the next season looks like of work, let's explore this idea of reshuffling and what this means for you building your best team. You know, we're navigating one of the most complicated labor markets in recent history. The economy is steadily adding jobs, but the low unemployment rate can feel misleading Inflation concerns have put a halt on many hiring plans, even forcing cuts in sectors like technology B2B services and it's really tough to quantify how many people who left the corporate workforce in 2020 and 21 have actually returned, economists are suspecting that many who have gone independent or started a new consultancy of some kind aren't being documented in these monthly job reports and all that makes hiring the right people and developing the right people for the long haul critical people leave their jobs when they lack balance or they burn out.
Whereas in the past a career change or life event, moving across the country might be the obvious reason employees leave things are a little more nuanced. Now, thanks to that delicate employer employee dynamic. A few stories and examples, I've heard one employee recently resigned from her company and team because she realized the workflow that was required for her and she had an alternative shift that she was required to work certain days of the week. Her quote unquote weekend was not saturday and sunday she was working the evenings and after numerous family relational challenges, deaths in her family, she needed to make a change.
So she said, I'm sorry, I enjoy the work. I like what I'm doing, but this pace, this rhythm, this environment, it's not working for me anymore. Another story, a high performing leader in a business, A manager of a team moved 1000 miles away and her job went with her. Whereas 23 years ago that would have been unheard of, but now she can hop in a plane if she needs to and head back to the office periodically. But when most of the team is working remotely, it's a great opportunity for people no longer to live where they work.
So it's opening us up to new labor to new markets and an incredible opportunity for where we can engage people connect recruit and elevate who we are bringing into our business. How are we going to overcome what I call the two Fs, flexibility and fulfillment. You know, it's been well documented that in the post covid hybrid era, more workers are willing to abandon jobs that don't afford flexibility or that don't fulfill them. In fact, the top three reasons that executive site for employees leaving their companies voluntarily.
Number one is still career change as it's always been too is a poor work life balance. Both of those employees that I mentioned, who changed their role. One left a company one moved geographically. Poor work life balance was the number one contributing factor in both of those cases. The third factor is disengagement or burn out these stats from the ceo benchmarking survey. Bear out that sentiment that employees are willing to change jobs if the job no longer aligns with their values and business leaders are more keen to this trend as well.
But what do we do about it? If you want to solve the two fs you really have just one choice clarity and this is important to highlight as recruiting and hiring become more challenging. It's vitally important to assemble the most compelling benefits package you can offer and many candidates are going to expect remote work flexibility or at least the option and the key here, be clear, be consistent, determine your plan, reevaluated periodically but make sure it's all on the table. Are you on site only then that better be in the job posting because you want to screen out candidates who do want that or don't want that whatever option you choose, you've got to make sure it's adequately clearly communicated re evaluated to make sure are we functioning as effectively and as efficiently as possible?
Be clear because candidates are looking for this information, they want to make the best choice. They're going to pursue the best job and role that they think is going to fit them. The great resignation, the great reshuffling means people are looking to re prioritize based on their personal values. So these are the things they're looking for. They want to be clear on the salary range, communicate throughout the process clearly frequently and efficiently because if you take too long your candidates will likely be somewhere else already. I hear time and time again.
I heard from a leader just the other day that people, candidates are eager and excited to schedule an interview, they confirm the interview any follow up, they are responsive to and when the interview comes, they don't show up. Now if somebody is pursuing multiple roles and another company has moved faster on that interview then perhaps they are not ghosting you or leaving you hanging because of some personal ethical failure. Maybe they just got another job sooner and they're too nice to tell you that they're just the candidate.
So it's okay, but be clear, communicate clearly frequently and efficiently. The other key candidates are looking for is to get to know the team throughout the interview process. This also allows the team to weigh in, offer their contributions and to ask good questions for you to hear from a variety of perspectives who this person is, how they might fit into the team and how other team members view this to attract and win the top talent. You have to be clear in your offerings and expectations throughout the candidate experience.
You can create the ideal flexibility in your workplace, but fulfillment goes beyond the hiring process. So beyond day one, what are you doing to build up your team to ensure that everyone is functioning at peak performance? Because remember The two FS flexibility is answered in the onboarding recruiting process, fulfillment that's not gonna be answered until a few months in. So what are you doing to create the ideal environment for people to be fulfilled? To ensure that they are operating at peak performance and that your teams are working well together to accomplish the goals and expectations of the business?
What are you doing to build those up? And we talk about soft skills, but how do you measure soft skills? How can you possibly assess these skills in the workplace? This is one reason I like talking about power skills rather than soft skills because in today's world there are a variety of skills that we need to have. Not only expertise in doing our job, but we also need expertise in collaborating, communicating and understanding who is on the other side, not only for all of the D. E. And I. Conversations around bias and our backgrounds and our stories but our generation and our communication styles and preferences.
How do we see more clearly who is on the other side? Not based on any bias we have, which we can carry a lot, but how do we see more clearly to communicate, collaborate more effectively and efficiently. Here's one hidden gem in the benchmarking report people data is key to assessing engagement and to drive performance. You know, behavioral data. One of the metrics upon which talent optimization is predicated is no longer some wild frontier, much like the hybrid workplace, it's not the Wild Wild West anymore. Executives who care about their people understand which behaviors are driving their team members performance, they've learned who works best where who's stretched most by a hybrid or all remote dynamic and behavioral information is also key to reintegrating teams whether on site or hybrid because after a prolonged stretch in the hybrid in between over these past few years, understanding how people will interact, respond and perform is an essential data point uncertainty necessitates agility and talent strategy is no exception.
Not everyone is slowing hiring or adjusting their talent priorities, but everyone who's responsible for business success agrees you can't get too comfortable in this economy. The landscape will be marked by volatility and unpredictability for as long as prices of consumer goods and B two B services remain high thanks to a myriad of factors including but not limited to geopolitical tumultuous affairs across the globe. Environmental factors and lingering effects on the supply chain due to covid 19 companies need to be exacting with their spending, which means re evaluating risks and growth projections.
Many are adjusting compensation to account for inflation while simultaneously making tough decisions about which operating expenses are truly essential. The domino effect of those decisions is broadly impactful. When one industry decides that marketing and technology spending must be sacrificed in the near term, other industries inevitably suffer often in the form of people losing their jobs. History has taught us that the economy is cyclical recessions always end, But even the most savvy economists can't say when exactly that will happen. We can be pretty sure the companies that are there when it's over profitable, sustainable and future proofed will get there by doing right by the people they have.
Labor is every business is most important and most expensive asset for all our reliance on technology and external services. It's the in house people who ultimately bring products and services to life and drive companies forward with their mission. Some people focused organizations got ahead of the curve in 2020, learning how to do more with less at a time when uncertainty hit unprecedented heights. Others pride themselves on being human above all else and may weather the economic storm through their culture cohesion and continuity. Talent optimization is the discipline that supports these principles.
It's founded on the idea that people can thrive when put in roles that play to their strengths and accommodate their strongest behavioral tendencies. It's also rooted in the belief that skills can generally be taught if you hire people with the right temperament and heart, knowing your company's identity, letting your mission values and ideals guide your talent strategy will fortify you for the foreseeable future and in doing so, your business will improve its odds at accurate hiring while supporting employee engagement development and growth retention and resignation become less pressing concerns.
When those other priorities are solid. People will remember those companies well after the economic downturn and more specifically, they'll remember the people that drove those companies and led accordingly. You have the power to create that kind of organization no matter where you are in your talent strategy journey, you can build it up and see it, soar the first step, download the ceo benchmarking report. Start reading it and wrestling with what do you want to do with your talent strategy in 2022 and beyond download that and the rest of our show notes at the new generation leader dot com slash 21.
That's where you can get the pdf. The full pdf of the 2022 CEO Benchmarking Report from The Predictive Index and more resources on how you can build your talent strategy.